The golf tournament—an internationally recognized stop on the PGA tour and one of the most popular events in the region—took place over the weekend in Pebble Beach, and helped celebrate at one of the tournament's most exclusive venues.

​​​​​​​—The Agency Carmel's Managing Partner and Principal of design firm —was invited to design the golf tournament's Event House, which would serve as a meeting place and viewpoint for numerous attendees, executives and VIPs.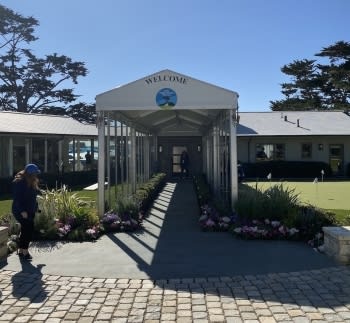 "The AT&T Event House is in a one-of-a-kind location overlooking the third green of the Pebble Beach golf course with views of Stillwater Cove," said Braden. "The interiors are extremely comfortable and welcoming—it feels as if you were visiting a friend's cozy beach house, but there is room for a few hundred of your closest friends. The response we kept hearing was 'What an amazing setting!'"
"I was approached by AT&T with very specific goals and challenges for the house," says Braden. "The spaces needed to be comfortable for everyday living yet versatile enough to accommodate meetings with executives and the house would need to completely transform into the AT&T ProAm epicenter, complete with private areas for player locker rooms and meals, spectator gathering areas, product display and catering." Braden and his team met each and every requirement for the Event House. The resulting space was equal parts warm and polished, providing an unforgettable and highly functional setting for spectators and athletes alike.
"Carmel and Pebble Beach are resort destinations, so there is an annual draw internationally simply because of its beauty," says Braden. "The AT&T Pro-Am is an annual ritual for many to spend a few days in a beautiful environment while getting up close to the action and meeting celebrities and enjoying fabulous events. More importantly, AT&T partners with the , and helps fund grant programs and supports hundreds of nonprofit organizations."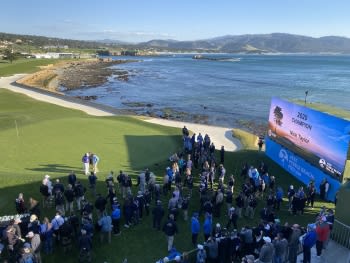 Widely known as a "golfer's paradise," the Monterey Peninsula is home to numerous world-class courses. But, day-to-day, Braden describes the area as tranquil—the Pro-Am kicks off a higher energy moment for community members to get together and enjoy all that the region has to offer. "Carmel and Pebble Beach are very quiet, tight-knit communities, so the AT&T Pro-Am creates a buzz and it's an opportunity for full-time residents to reconnect with many of our part-time residents and their friends."