Celebrity homes, Oscar-worthy designs, mega real estate deals and a basement collection worthy of its own Star Wars museum—see the properties, places and personalities making headlines this month.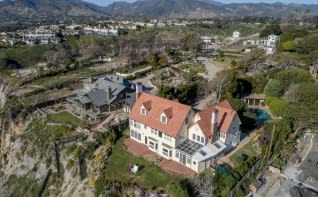 7023 BIRDVIEW AVENUE - This Malibu stunner and home of film legend Anthony Hopkins was featured in The Wall Street Journal, which noted its cliffside perch and lush, one-acre grounds. Represented by Santiago Arana, the iconic Point Dume Bluff estate features a main, four-bedroom Cape Cod-style residence and one-bedroom guest house showcasing panoramic views of the Pacific Ocean, Catalina Island and Palos Verdes.
MANDARINA - A kid's club worthy of Oscar gold. When the new, much-anticipated One & Only Mandarina opens north of Puerto Vallarta in June, it will feature the 42,000-square-foot Kids Only club designed by Hollywood Oscar winner Brigitte Broch, Art Director of such vivid films as "Moulin Rouge" and "Romeo + Juliet." She recently told Forbes that what most intrigued her was "the world of fantasy that could be created in an ancient tropical forest…where the jungle meets the sea." She hopes the children of hotel guests and owners at One & Only Mandarina Private Homes will "plunge into wild freedom" within the "spectacular setting of grand trees and unspoiled nature."

​​​​​​​DAVID PARNES & MAURICIO UMANSKY - When Amazon chief Jeff Bezos purchased the $165 million Warner Estate in Beverly Hills, The Wall Street Journal and The New York Times called upon Mauricio and David for expert insight on the high end of the Los Angeles real estate market. After all, it was The Agency's top agents who started the $100-million+ sales trend in L.A. with the sale of the Playboy Mansion, a trend that continues as the ultra-rich are drawn to California's most historic, premier properties. "The property is magnificent," David told the Times. "It's the land. It's the history. It's the whole experience."
1475 BEL AIR ROAD - The mega aquarium and waterfalls at this new "jaw-dropping" Bel Air estate caught the attention of Forbes, which recently featured the 12,027-square-foot "contemporary dream palace of soothing tranquility." Represented by James Harris and David Parnes, the house took two years to build and as Forbes notes, "recaptures the imagination with the clever use of water." Luxury amenities include indoor and outdoor waterfalls, a dual-sided 800-gallon aquarium and a glass-bottom pool.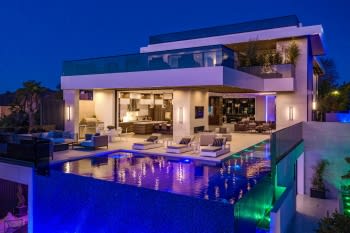 2377 REFUGIO ROAD - Dotted with majestic, 100-year-old California oak trees, this 106-acre seaside ranch estate, named Three Hawks Ranch and represented by Billy Rose, is located on the Gaviota Coast near Santa Barbara. Mansion Global recently showcased some of the estate's most spectacular features, including two fully furnished, safari-themed luxury yurts for "glamping," two large barns, a swimming pool and cabana, fruit tree orchard and sweeping ocean views.
MAURICIO UMANSKY - The Agency has always known how to throw a party. Mauricio's recent Instagram Story @mumansky18 shared a glimpse at the decadent spread served during the launch party of The Agency's new San Francisco offices. The post caught the attention of Bravo TV, which remarked, "this wasn't exactly your typical corporate cheese platter. This giant feast contained piles of tomato-and-Calabrian-chili flatbreads, plus gorgeous crudités, breadsticks, and charcuterie boards." Buen Provecho!
HIDDEN HILLS COMPOUND - Right now, in a galaxy quite close to home, sits a mansion that, according to Robb Report, could double as a "Star Wars" museum. The stunning Hidden Hills compound, represented by Emil Hartoonian, Arvin Haddad and Mauricio Umansky, is home to an incredible collection of "Star Wars" memorabilia. "The home's unassuming exterior belies the sci-fi universe inside," writes Robb Report of the 5,000-square-foot basement, complete with a model X-wing fighter suspended from the ceiling, hundreds of collectible action figures, a C-3PO and an R2-D2. The more than 18,000-square-foot, Craftsman-style home's other features include six bedrooms, 11 baths, a pool, waterfall, slide and tennis court.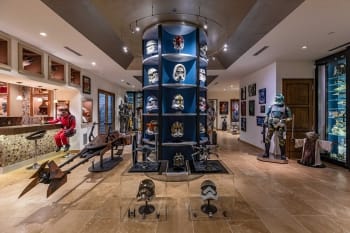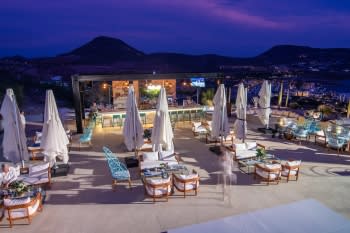 PUERTA CORTÉS - Situated north of Los Cabos on the tranquil Sea of Cortez, La Paz continues its rise as a luxury resort destination, or as Laguna Beach Magazine calls it "the next big thing on the Baja California Peninsula." Its recent feature on La Paz named Puerta Cortés, "the landmark" residential and resort destination and home to The Agency's La Paz office, to the top of its list of where to stay. The boutique collection of oceanfront and hillside residences is "the epitome of laid-back La Paz and understated luxury," the magazine writes, noting the community's world-class marina, the only Gary Player signature golf course in Mexico, residents-only pool, new Sunset Lounge, gardens and sweeping ocean views.